The idea of a quarterly pest control service that maintains your house with preventative treatments, and quickly helps in cases of pest invasions could seem like a money grab. Some may think they aren't accountable, effective, or worth it because they could do all the prevention themselves.
When performed by a reputable company, quarterly pest control is worth it and not a scam. Unless you are willing to learn all the preventative measures, upkeep them, and know all the best methods and techniques to get rid of these pests.
There are some disreputable pest control companies that do run scams. For the most part though, using a pest control company to do quarterly pest control for your home is well worth it.
What is quarterly pest control?
Quarterly pest control services will vary depending on the company that you choose to use. In general, they include:
An inspection of your home for any signs of insect infestation
Interior insect barrier spraying
Exterior spraying
Special treatments around crevices
Removal of bees nests, wasps nests, and spider webs
Whatever procedure they decide on, it doesn't take very long and will help you rest assured that your property is pest free.
The treatment process
As soon as the exterminator arrives, they will need to know what types of problems you are having and who the prime suspects are.
They could be roaches, ants, ladybugs, etc. Depending on your type of problem, the exterminator will determine the correct course of action.
The technician will then go inside your home and spray along the interior perimeters of all the rooms. They will walk through every hallway and room of the house looking for locations that are usually bug hiding spots.
If there are problems particular to a certain area or critter, they will take care of it immediately with specific treatment and/or traps. Confirm the safeness of the insecticide with the exterminator. They are usually odor-free and safe after drying, but you should always double check.
After this interior treatment is done, they will move on to the exterior. They will walk to the outside of the house and treat the foundation which includes the windows, doors, and in some cases your yard. In doing so, a barrier is created to keep the pests from the outside from coming in.
What critters require quarterly pest control
Some pests can be taken care of with your own DIY methods, but there are some infestations that absolutely require a professional. Once the infestation is under control, your quarterly pest control services will be a major factor in preventing the infestation from happening again.
Here are some of the most dangerous or stubborn insects to remove from your home or property: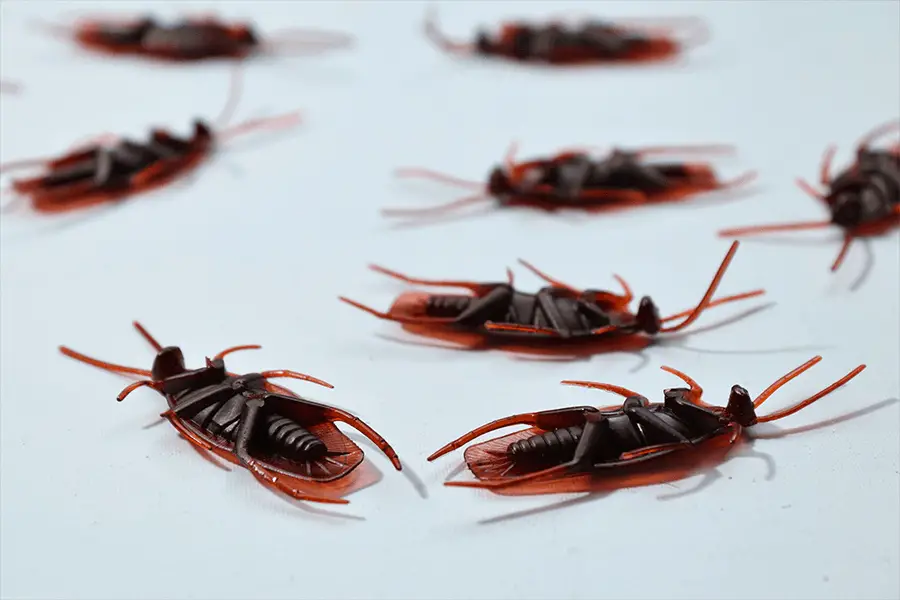 Cockroaches
These are a great example of an infestation that is most likely out of your hands due to their high resistance and their ability to repopulate quickly. Most methods that can be used by DIYers aren't that effective. If 5% of their total population survive, they will completely repopulate in a few months.
Bedbugs
Bed bugs are another stubborn pest that is hard to get rid of. They are called bed bugs, but they can also be found on sofas, chairs, blankets, and sheets. If any survive, they will repopulate.
Aggressive wasps and hornets
Aggressive species of wasps and hornets (spoiler: it's most of them) should really be handled by a pest control professional. If handled improperly, removing a wasp or hornet nest can be a life-threatening situation.
Termites
Even if you suspect that you only have a localized termite issue, it is best to get a professional's opinion. Simply because of the extent of the damage they can cause to your home.
Is quarterly pest control necessary?
No, it is not necessary to have a pest control company come to your house once a quarter. It's not that your home insurance or your bank wants to see a service like that.
BUT you should see it as the regular check-ups with a doctor or the pressure-washing and staining of your fence. It's a preventative method or a maintenance task to keep the value of your house.
It is also a money saver if you end up with an infestation and there are much more benefits of quarterly pest control.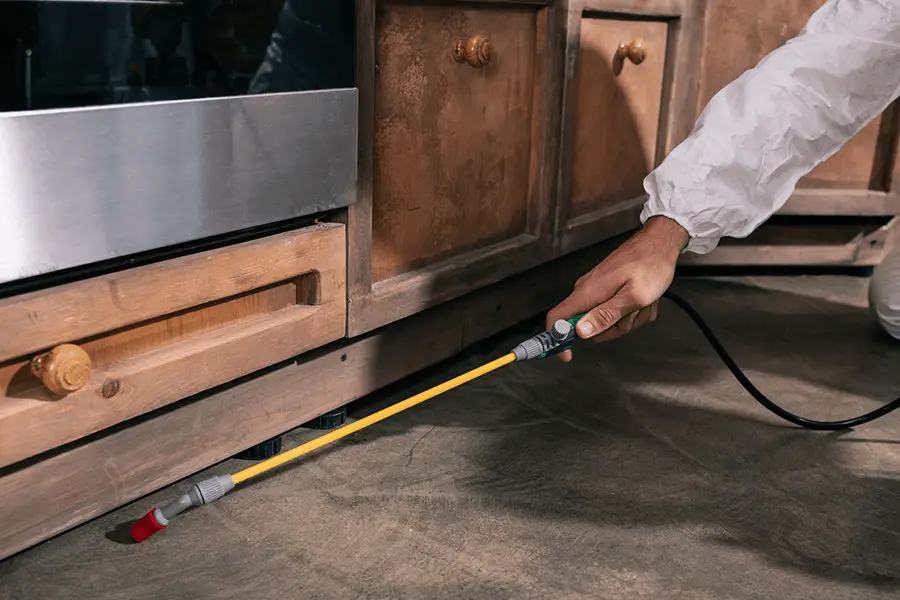 6 benefits of quarterly pest control services
There are so many benefits to quarterly pest control services. Here I'll touch on just a few of the many pros to having this service done regularly by a reputable company.
1. Expertise
The main reason why quarterly pest control is worth it is that the people performing your service are experts at what they do with years of experience. They know what to look for when inspecting your home, the most effective way of treating the problem, and how to prevent a recurrence.
While some avid DIYers might be interested in learning the ins and outs of pest control, most of us just don't have the time to invest in that.
2. Saving your time
Let's face it, we are all busy. Whether it is with work, family, or fun. Our time is precious. By using a quarterly pest control service, you save yourself those precious moments for what you really need to focus on.
3. Keep on schedule
By using a quarterly pest control service, you will ensure that you don't forget important pest control tasks.
It is so easy to forget or procrastinate quarterly home maintenance tasks like pest control, especially if you don't think you have a problem with bugs. But keeping up with this regularly is required to make sure your home doesn't become infested.
4. Warranties
Quarterly pest control is worth it because it comes with a warranty. The idea is that if you're doing routine pest control tasks every three months, then you should never run into a pest problem.
With these services, you are covered for the periods between scheduled visits. Just make the call and a professional will come by and deal with the issue at no additional charge.
You should always read over the warranty carefully and get in touch with your pest control company about any specific questions you have concerning it. Coverage will vary by company.
5. Budgeting
If your property or the area where you live tends to have an issue with certain pests, pest control can take a big bite out of your budget. Quarterly pest control allows you to budget for this expense without having to guess how much your pest control services are going to cost.
These services also mean you will be unlikely to have unexpected pest control expenses pop up. An unexpected critter invasion can happen even in the cleanest of houses. When these home invaders make a sudden appearance, an emergency call to an exterminator can severely hurt your wallet.
Remember: Calling an exterminator to handle an emergency pest problem is going to cost much more than preventative quarterly pest control services.
6. Effective preventative measures
Quarterly pest control services are warrantied for a reason. They are extremely effective at preventing insects and other pests from invading your home. Depending on the company you work with and the type of services they provide, you may even be protected against rodents.
Along with these prevention benefits, you will not have to repair damage to your home caused by infestations. You also won't be exposed to the health issues and diseases that pests can bring into your home.
Disadvantages of quarterly pest control
There are a few disadvantages to these services, but considering the benefits, they are minimal, and not unexpected.
Cost
According to Home Advisor, the cost of quarterly pest control services typically ranges between $112 and $261 per quarter, averaging about $176. This will depend on the company you work with, the area you are located in, and the size of your home. If you have a preexisting pest issue, that will likely incur additional fees.
The cost isn't much considering what the cost of damage to your home will be if you developed an infestation. But it can be seen as an added cost if you don't have an issue with insects.
Pesticides
Most pest control companies use chemical insecticides and pesticides to deal with pests and to prevent infestations. If you are sensitive to such things or if you just don't want to use chemicals to prevent insect infestations, then these methods are not for you.
Talk to your pest control company about your options. You may be surprised at the safety of many of the chemicals used indoors and around your home.
Quarterly pest control scams that you should know before you book your service
Most pest control companies are completely honest and open about their services, but this is not the case for all of them. Here are some things you should be on the lookout for to ensure that you're working with a reputable company.
Make sure the company and technicians are licensed
Most states will require these technicians to be certified before they spray pesticides in your house, but some states are different.
Say you call a company, even a reputable one, and they send a licensed technician to your house. They then show you the company's license, and you agree to the estimate. At the time of the appointment, a different technician shows up and starts working. He is wearing the company uniform and has a company truck.
The problem is that some companies have one single professional that goes and passes all these tests and then "trains" the other employees while they are on the job. The employees that are actually working may not know how to use the chemicals properly, which is very dangerous.
Be sure to ask for the license of the person that actually works within your home.
Look out for free inspections
These scammers go to different houses without an appointment and offer up a free pest inspection. The technician, who is probably not licensed, will enter your home and inspect it. Then they will tell you that there is evidence of termites, bed bugs, ants, or some other pest that needs to be dealt with right away. They sometimes even plant dead bugs in your home so they can "discover" them.
You should never hire someone that simply comes to your door and trust their word for a potential pest infestation. If you are concerned, go to a reputable company and hire a licensed exterminator.
Be wary of contracts you can't cancel
Permanent contracts are one of the most frustrating scams in pest control. It starts off very legitimate. The pest control professional will give you a solid estimate, he shows up on time, and he does the job he was hired to do.
However, once he has finished, he says that a one-time treatment won't eliminate everything. He will then tell you to sign a year-long contract to completely eradicate the pests. If there are still bugs after a year, the contract will renew.
Most states have laws to prevent these self-renewing contracts because many people will feel the need to sign if it means more effective pest control.
In reality, second treatments are not usually necessary if the pest control technician did their job properly. If there is a need for a second treatment, then the technician should be able to tell you the reason why. It should not take an entire year to eliminate a pest control issue, and you should never be cornered into signing a contract.
In essence, you end up paying these professionals for not doing their job properly.
This contract is different from a quarterly pest control service contract. Most quarterly pest control service contracts can be canceled at any time, and they offer preventative services with a guarantee as to the effectiveness of the services.
Bed bug box scams
Bed bugs have always been a problem in major cities and are on the rise even now. They are a stubborn pest that bites and can cause health issues. Let's be honest here; they are also just kind of creepy. No one wants to sleep with bugs living in their mattresses.
Because of this, some scammers have found that bed bugs are an effective way to exploit people. In this scam, the "professional," who is usually not trained in the pest control at all, will tell you they will kill your bed bugs with heat.
Heat will actually work to kill bed bugs if it is used on the entire house, and the temperature is maintained at 140°F for a couple of hours.
In reality, the scammer will bring portable heaters to only parts of your home, and the bugs will move to cooler areas until the heat dies down. The bugs will then come back, and you will be right back where you started.
Pricing should be fixed, usually
This isn't technically a scam, but be on the lookout for companies that give you an estimate of the cost for your pest control. Some disreputable companies will give you one price as an estimate but then bill you a much higher price. Saying that it is difficult to predict the actual cost of a service.
This is mostly untrue. Most reputable pest control companies will give you an upfront cost for services that will not change after the service is done. If a service is going to cost substantially more, then you should be contacted before the service is completed.
Additionally, if you receive an estimate, your pest control professional should be able to give you a fair idea of what, if any, costs will fluctuate. This would only be necessary for very specific instances.
There are many natural or non-toxic ways to handle the pest control. But be wary of pest control companies that claim to be "green." As there are no regulations placed on this term. Most pest control companies use chemicals, some of which are toxic, but most of them are safe to use around children and pets.
Green pest control
If a company claims to be "green," you may want to find out what exactly they mean by the term. Make sure you aren't paying a premium just for their name.
The worst of the worst
Occasionally those people who are going door to door offering home pest inspections are doing no such thing. Thieves will pose as pest control professionals. They will come in, pretend to inspect the home, and help themselves to any valuables they find along the way.
Be wary of letting any stranger into your home, whether they look the part or not.
So, is quarterly pest control worth it?
As long as you avoid the scammy pest control people, and pick a reputable company, it's well worth your money to sign up for this service. Having the peace of mind to come home to a pest-free zone, or knowing that your investment property is taken care of, is a great feeling.
We see it as a regular maintenance cost for our house and wouldn't go without it. We rarely have issues with any pests but if we do our technician comes out and fixes it right away (for example, extra measures for stubborn ants or new wasps nests).
In the end, it's up to everyone to make their own choice. Our goal was to show you benefits and disadvantages, as well as pest control scams, so you can decide for yourself if quarterly pest control is worth it.